Logitech has one of the strongest heritages as a developer of great gaming mice: its MX518 series has been one of the most favourite mice for professional gamers for a decade and is still highly sought after. Besides the flagship "G502" Logitech has another very interesting alternative for us gamers in its lineup: the Logitech G402! Although its features look quite similar to its bigger brother, its price is by far lower. Logitech's G402 is even called the "fastest gamer mouse on the market" – sounds quite interesting, doesn't it? We've thoroughly tested the Logitech G402 for the past two weeks now and came to an interesting conclusion in our Logitech G402 review!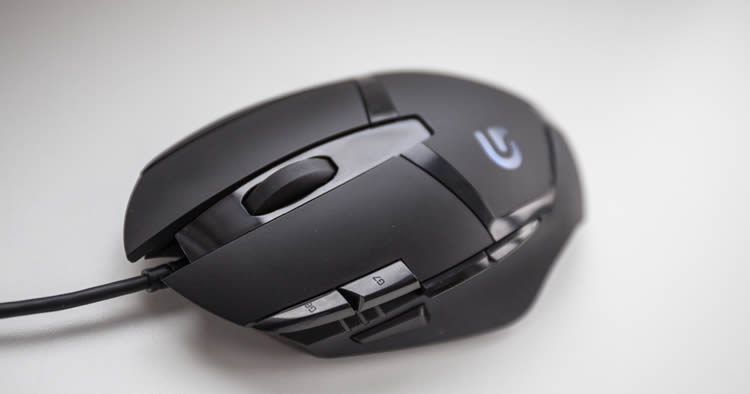 Logitech G402 Review: A first Look
Logitech's G402 is a relatively new addition to the gaming mouse market. During "unboxing" you will immediately see and feel its close resemblance to the G502. The G402 is actually a "light version" of Logitech's G502 flagship. Their shape is very similar and feels typical for Logitech mice. As with many other Logitech mice, this one is for right-handed players only and features a medium sized shape. The main differences to the G502 are very minimal though: It only lacks the option of adding weights into the bottom of the mouse, and it does not feature a braided cord to connect it to your computer. The biggest difference is the price though: The Logitech G402 is about 20 USD cheaper than its big brother!
The most fun part of our Logitech G402 review: plugging the mouse in for the first time! When doing that you will be able to catch the elegant design this mouse has to offer: the plastic surfaces of the mouse have a high-quality look and feel to it and the blue, pulsating lighting also supports that impression. Overall the design concept is very well done, the G402 just looks like a tiger ready to jump at its prey. Only the bottom of the mouse falls off when it comes to design: the plastic looks kind of cheap there – but luckily you won't see this side of the mouse that often 🙂 The small glider surfaces on the bottom work pretty well though, so that makes up for it in our opinion. All of the G402's buttons are located perfectly on the mouse and match the overall design concept quite well. Taking all this into account the G402 really stands out with its design, especially in its price range. Competitors, please take notes!
Logitech G402: Key Features
The most heavily advertised feature of the Logitech G402 is that it's the "fastest gaming mouse" on the current market. The story behind that is quite simple: the 32bit ARM processor is able to track even the fastest mouse movement you might need to do during your games. Especially if you're playing with a low mouse sensitivity you'll often need to move the mouse extremely fast over your mouse pad. Although this is quite useful, some of it also is just done for marketing purposes: in most instances you will not need to be able to move your mouse ten meters per second(!). Most of today's gaming mice are able to track higher speed quite flawlessly as well, so this "record" of the Logitech G402 is a nice-to-have, but no must-have.
The more important feature here is the G402's capability of transmitting its signal with a delay of just 1 ms. Every millisecond counts for serious gamers, so that's a big plus in the Logitech G402 review for me. The most important part of each mouse is its sensor. Although the G402 does not have the famous Avago 3310 sensor (which is the best one on the market right now and used in e.g. Zowie's FK1) it still scores some points here: the G402 is one of the few gaming mice on the market that has a so-called "flawless sensor". This means that no artificial mouse acceleration or mouse correction disturbs your mouse signal in any form, which is extremely important for serious gamers. Well done, Logitech!
Logitech built in a total of eight mouse buttons into the G402 that can be fully customized and offer a great feel to it. The mouse wheel is very sturdy as well which is not always the case with other companies (not pointing fingers here :D). The little switch on the left side of the mouse allows you to chose from three different sensitivity presets of the mouse "on-the-fly". Nice to play around with, but nothing I could use effectively.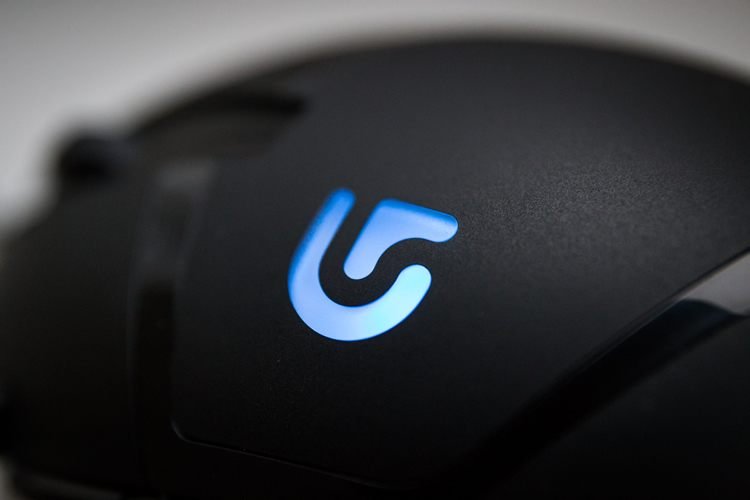 Logitech's G402 under Gaming Conditions
When testing the Logitech G402 with various games we had a consistently good impression of the mouse. The switch to this gaming mouse was very smooth and all of our team members adapted very well for office and gaming purposes. In League of Legends the switch was very easy, even for mechanically intensive positions like the AD Carry. Also in CS:GO the Logitech G402 made a very good impression on us with very precise handling and aiming throughout multiple weeks. We've been using the mouse in combination with the Steelseries QcK mouse pad (great fit!), but it also works very well with Logitech's own G240 or G440 mouse pads.
Conclusion: Logitech's G402, an awesome Value
"A great mouse for a low price": that's how we would sum up our Logitech G402 review! Logitech has developed a very good piece of gaming equipment here that sells for a very low price, especially when compared to other mice from Logitech's broad portfolio. For under 50 US Dollars you can get a gaming mouse with awesome components and a high-quality design concept. Especially for gamers the G402 is a great choice with a very good sensor that handles FPS games perfectly. If you're looking for a new mouse, you should definitely consider the G402 – it is essentially a very similar mouse to Logitech's flagship (G502) for a reduced price, only lacking features I don't need anyways. For all fans of Logitech mice we highly recommend trying the G402!