As you've already seen in my Xtrfy XG-M2 test I have one big weakness: always when eSports teams create their own gear, I have to try it out. Some years ago pro gaming teams used to promote all kinds of crappy equipment. Today we live in a world though where quality matters for eSports teams: just imagine if Ninjas in Pyjamas developed a mouse under its brand name that sucked – that would create negative PR and NiP's players wouldn't want to use sub-par equipment in professional matches.
When Europe's biggest eSports brand Fnatic announced its own gear, I couldn't wait to get into my gaming chair and test it myself. I bought the Fnatic Flick gaming mouse right after release and want to share my opinion with you guys!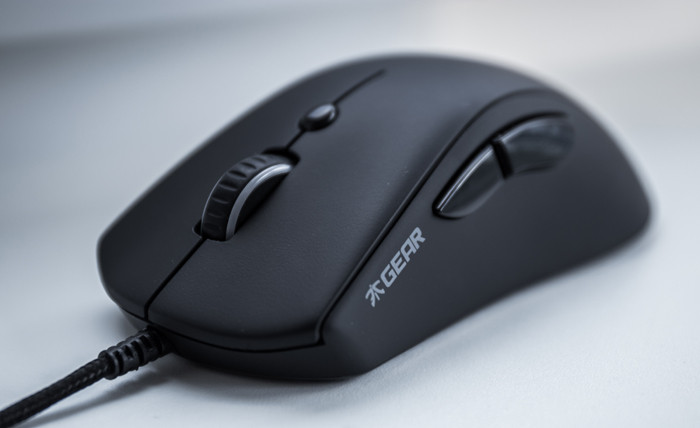 Fnatic Flick: Features
According to Fnatic, the Flick is "pro-player designed, tested and approved for the highest level of competitive play". It should be obvious that you can't achieve that with bad components, so let's have a look at the core features:
| Feature | My Opinion |
| --- | --- |
| PixArt 3310 Sensor: | The PixArt PMW-3310 is known as the best sensor on the current market for gaming mice. It works 100% flawlessly (as opposed to most sensors on the market) and has no mouse correction or mouse acceleration. The same sensor is used in the SteelSeries Rival or the FinalMouse. |
| Omron Switches: | Although some fellow mouse lovers rate Huano switches a tad higher than Omrons, they are still on a very high level. Their durability and tactile feedback is excellent, which is where a lot of cheaper mice fail. |
| 6 Mouse Buttons: | Fnatic's Flick comes with two side buttons, but only on the left (which means it's not a mouse for our left-handed friends). Besides that you'll have your left/right main mouse buttons, the mouse wheel and a small switch to chose your profile. |
| 5,000 DPI: | As Fnatic's Flick uses the Pixart 3310 sensor you'll get a maximum of 5,000 true DPI out of it - which is more than enough. Always remember, kids: you don't need more DPI than that, only if you're into bullshit mouse marketing. |
| 1,000Hz Polling Rate: | Perfect, as that results in only 1ms delay. |
| Drag Reduction Cord: | Sounds like a marketing gag, but might actually be useful: the mouse cable comes out of the Fnatic Flick with an upward angle, so it won't touch the mouse pad. |
| LED Lighting: | Well yeah, you can have your mousewheel light up in any color you want (if you need it). |
Judging from a first look at the features the Fnatic Flick has everything a good gaming mouse needs.
Fnatic Flick Review: First Impression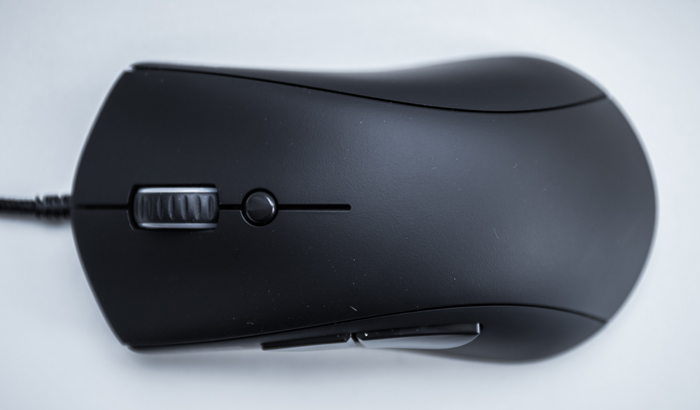 Material:
The Fnatic Flick in our review has a black cover material made out of hard plastic, which feels quite good in your hand due to the matte surface. It feels kinda similar to the Mionix Naos, and softer than e.g. a Zowie FK1. The sides are made out of a similar material, but seem to have more grip (which makes sense).
Ergonomics:
The Flick's shape is pretty interesting: although it's symmetrical, it is bigger and has a higher arched back than the Zowie FK1. And although it's bigger, its ergonomics are pretty different to e.g. the asymmetrical SteelSeries Rival. I've compared all three mice next to each other and the Flick feels like a middle path between both of these popular mouse shapes.
Mouse buttons:
Omron switches have a nice tactile feedback to it: they have a wonderful "click" to them, similar to the Zowie FK1. Both mouse buttons plus the side buttons feel well-made and are easy to activate – no matter if you have to click them on the far side of them.
Mouse wheel:
The mouse wheel is precise, but harder to turn in comparison with the Rival or FK1. The same applies when you want to press it down to "click": I'd love to have a little softer feedback there as it needs quite a lot of pressure (maybe too much).
The Fnatic Flick in Game

Let's switch to the fun part of the Fnatic Flick review! Although the Flick is plug'n'play, there is a software available that I'd recommend using. Here's the download link on the quite sleek Fnatic Gear website. The software's functionalities are quite advanced and can be compared to e.g. Razer or SteelSeries. The user experience and design could use a little improvement though, but that's not surprising for a software that new.

Once you've set up your personal profiles with the perfect sensitivity for you, you'll get used to the mouse quite quickly – obviously, as Fnatic's pro players had to adapt as well before major tournaments started. The sensor works as flawlessly as expected and feels very precise, even on low sensitivity. The mouse's material feels good, even after longer gaming sessions.
Because of the ergonomic shape of the mouse, it fits different grip styles: I personally preferred to "claw grip" it, but the high-arching back also allows a palm grip (not if you have huge hands though).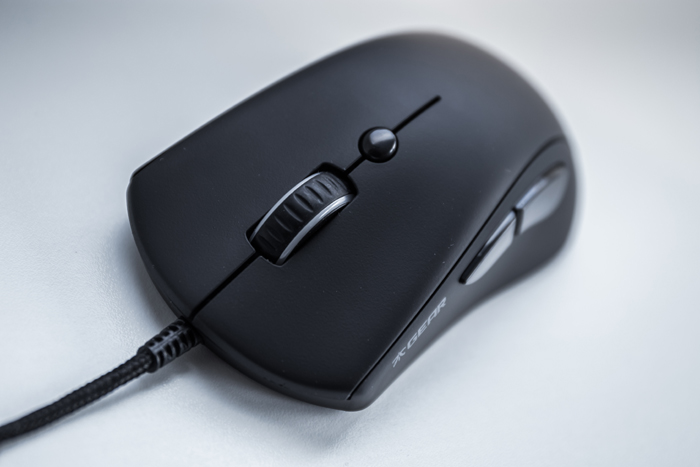 Of course I focussed on CS:GO in my review, as Fnatic's squad is one of the (if not the) best in the world right now. Especially in Counterstrike it's super rewarding to play around with the different profile and sensitivity settings, as you can get that perfect setting for your AWP. The angled cord prevents drag across the mouse pad when zoomed in as well. I've been comparing the mouse to SteelSeries' Rival and Zowie's FK2 in my Fnatic Flick review and didn't encounter any differences in quality, precision or craftmanship.
Fnatic Flick Test: Conclusion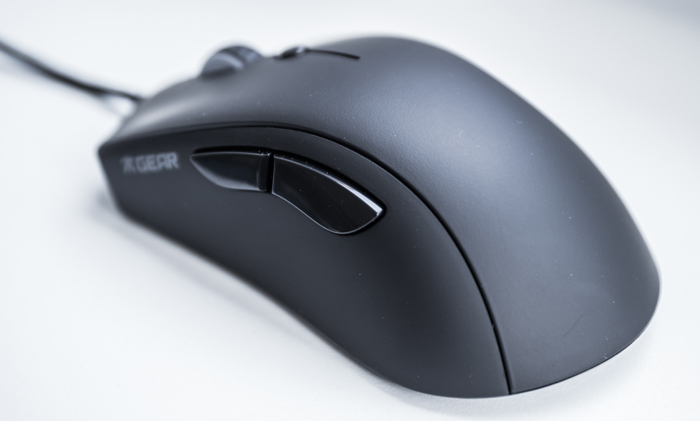 So – does the Fnatic Flick live up to the big name of Fnatic's eSports team? Judging from the features and my experience comparing it to the industry's benchmark mice, I'd have to say "yes". Although there are some minor weaknesses related to the software and the mouse wheel, it still skyrockets into the leading group of today's gaming mice.