Zowie's FK1 is a mystery to many gamers: it basically looks like a standard laptop mouse you will see everywhere – but still plenty of pro gamers (often in Korea) actually use this mouse for their most important matches. The reason for that is simple: inside the mouse you will find some of the most advanced hardware that a gaming mouse can have today. This might be the reason why eSports professionals prefer Zowie over brands that are way more famous, like SteelSeries, Razer or Logitech. So – is the Zowie FK1 the wolf in a sheeps's clothing? We will find out in our Zowie FK1 review!

About Zowie…
Zowie is relatively unknown to the broad masses of PC gamers world-wide. The company is relatively new to the market as it has been founded back in 2008. Their slogan is "Strive for Perfection" which describes the thought process behind their gear: they state that they do not want to become the biggest brand for gaming mice, but to be the best. Yep, that's a hard task considering the millions of dollars other companies can put in their product development. As Zowie is specifically aimed at competitive gamers, this concept (or as they say: their mentality) actually makes sense. Lots of pro gamers world-wide already use their gear, mainly the Zowie Mico which is made for smaller hands than the Zowie FK1. Besides the Zowie mice you can also get the Zowie Celeritas of them, a mechanical keyboard that performs really well.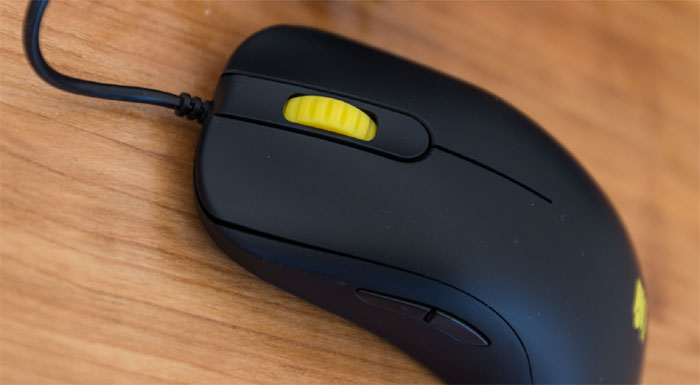 Key Features of the Zowie FK1
A little introduction to the mouse's history in our Zowie FK1 review: after successfully launching the Zowie Mico and the Zowie EC Evo, the FK1 combines best of both worlds. For those that found the Mico too small for their hands or wanted an ambidextrous shape for a better claw grip, the Zowie FK1 is their weapon to chose. The shape is pretty similar to the SteelSeries Sensei, so you will be familiar with it if you like this allround shape. The centerpiece of the Zowie FK1 is its optical sensor: the Avago 3310 is one of the best sensors that are currently used on the market. It provides a dpi count of 400 to 3.200 dpi which can be adjusted in steps of 400 / 800 / 1.600 / 3.200 dpi. Combined with the low liftoff distance (1.5mm – 1.8mm) it provides a highly precise optical mapping of each hand movement. This especially comes in handy when using the mouse for CS:GO or similar shooter games as it allows a very low reaction time when you need to perform quick movements. The two buttons on each side have a good position, although I found myself to rarely use the ones on the non-thumb side. Also the normal mouse buttons (Huano switches) and the mouse wheel provide a great feedback during battle and just feel very well-made.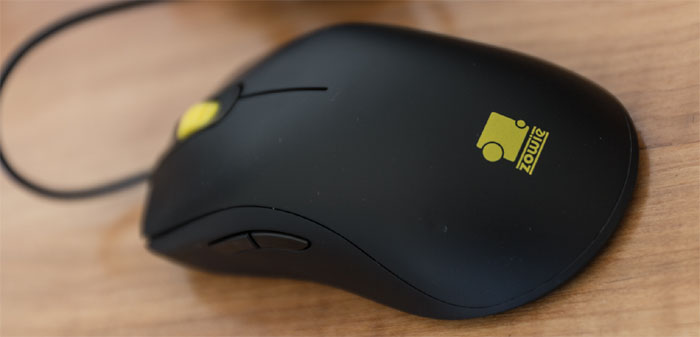 When testing the mouse on the battlefields of League of Legends and CS:GO during our Zowie FK1 review we were able to adapt very quickly to the mouse shape as we use a regular claw grip with medium-sized hands. After hours of gaming the material of the mouse still felt very good because of the coating that offers a good amount of grip. We switched mostly between 400 and 800 dpi combined with a low sensitivity at both games were the Zowie FK1 really shined! After a few minutes we felt "at home" with it as it was just that precise to play with. Also the stronger feedback of the Huano switches is a nice addition; although they might feel harder to press down at first, you will quickly get used to it and enjoy the feedback they provide.
All in all we are positively surprised by our Zowie FK1 review: who would've thought that this "dark horse" of a gaming mouse would become my new favorite mouse just after half a day of using it? As Zowie managed to improve their quality control in the last year even more, we highly recommend this mouse if you're in the market for an upgrade!