When thinking about gaming mice there's always one model that pops up in every discussion ever since it was introduced: Razer's Deathadder! Reason enough for us to have a closer look at the mouse that sits on top of so many pro gamers' desks. The important thing to know in our Razer Deathadder review is that this mouse has evolved a lot throughout the years: older versions include the Razer Deathadder 2013, the Razer Deathadder 3G or 3.5G. The current version is the Deathadder 4G, which is also available as the Razer Deathadder Chroma with fancy RGB-lighting (if you need it). But – how good is it? We'll find out in our Razer Deathadder Review!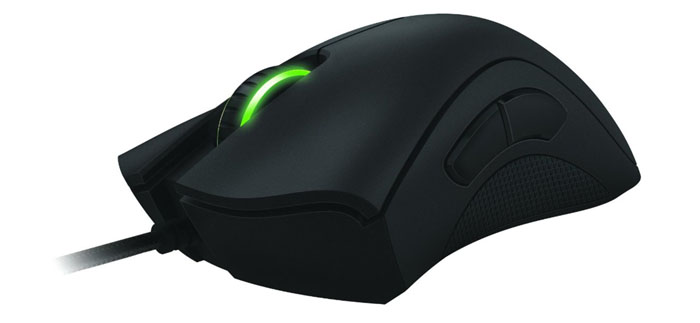 About Razer
Razer is one of the most established and oldest players on the gaming mouse market: even back when I was young (early 2000s – yes, I'm old) Razer put out the first mice that were specifically designed for gaming! Before that we just used Microsoft's Intelli series or Logitech mice (or whatever came with your PC back then). Razer has been founded in the United States back in 1998 and soon came to the market with their first mouse called "Boomslang", followed by a multitude of good or sometimes mediocre gaming mice throughout the years. Today, Razer employs over 400 people around the globe and sponsors a lot of professional teams in League of Legends or CS:GO like Team Liquid, Counter Logic Gaming or SK Telecom T1.
Razer Deathadder Review: Features
So – why do pro players pick that mouse (besides obvious sponsorships obligations)? Let's have a look at the Deathadder's features first:

| | |
| --- | --- |
| Avago ADNS-S3988 Sensor | An excellent sensor that offers flawless tracking without any mouse correction or prediction |
| Up to 10,000dpi | More than enough - you won't need anything above 3,200dpi anyway |
| 1,000Hz Polling Rate | Excellent result which translates to just 1ms delay in your signal |
| Asymmetric shape | Razer's Deathadder is made for right-handed gamers only and not ambidextrous |
| 5 programmable mouse buttons | Although there are mice on the market with more buttons, most gamers won't need more than two side buttons anyway. |
| RGB Chroma Lighting | If you need it... |
As an avid reader of Gaming-Mice.com you should definitely know by now that the sensor is the most important part of a mouse. If your sensor sucks, even millions of different colors in your RGB lightning won't make up for it (duh?). Razer's Deathadder used different sensors throughout the years – and luckily the newest version features Avago's ADNS-3988 sensor. This sensor model was specifically designed for the Deathadder and is the optical version of the A-9800. It offers flawless tracking of your mouse signal without any mouse correction or mouse acceleration, which is key to having the most precise in-game aiming. A polling rate of 1,000 Hertz is another key feature you want to look for in a gaming mouse and Razer's Deathadder offers this well, meaning that the mouse sends a signal to your computer every millisecond – which is the fastest speed you can have here.
All the features look very solid, although we're still wondering why Razer puts that much Marketing-Blabla in front of it. Come on guys, be proud enough to highlight the important things instead of 50G acceleration or fancy (but useless) RGB lighting!


Razer Deathadder Review: Gaming Performance
As with all proper gaming mice today, the Razer Deathadder is plug'n'play – meaning you can just use it right off after plugging it in via the gold-plated USB connector (while "gold-plated" doesn't add any actual value besides sounding fancy). We do recommend to download and install Razer's Synapse software though as you can make sure mouse acceleration is off and the polling rate is set to 1.000 Hertz.
The mouse itself feels quite good from the first time you get your hand on it: its shape resembles the standard non-ambidextrous mouse shape that was pioneered by the good old Microsoft Intelli 3.0. The overall shape is pretty high, especially on the left "thumb side" of the mouse – similar to the SteelSeries Rival, Zowie EC1 and many more. So if you're used to this basic shape (as opposed to the ambidextrous SteelSeries Sensei shape) you should be able to adapt to the Deathadder real quickly. The top material feels smooth and comfortable, while we're not 100% sold on the rubber "grip" part on the side – after some weeks of use it does not feel as good as the rest of the mouse.
The best part about any Razer Deathadder test should be the sensor: as we always mention in our reviews, the sensor of a gaming mouse needs to work flawlessly without any artificial mouse correction or mouse acceleration that f***s with your aiming. Luckily enough, this is the case for Razer's Deathadder. The tracking works perfectly in all the games we've tried – no angle snapping or something similar in CS:GO, which is essential for proper play. The tactile feedback of the mouse buttons offers a good response feel as well while not being too hard to press (which is important during rapid flick shots in game).
One negative part we encountered during our Razer Deathadder test was the scroll wheel: although it "does the job" it does not feel as smooth and well-made as the rest of the mouse. It has some "rattle" to it that feels a bit weird. Also some gamers we talked to had some quality issues in the past with former versions of the Deathadder – and although the 4G version is said to be more reliable, the quality might differ from model to model. Although this is a minor issue, it still leaves a small "dent" in the review.