For a long time the 'Finalmouse' has been seen as the ultimate boutique mouse for gamers and enthusiasts alike: perfect hardware combined with a flawless sensor, excellent materials and a great feel overall. All these things made it 'reddit's favorite', and all over other message boards as well. Then something unexpected happened: multiple users found a few pretty heavy issues with the Finalmouse's buttons, and even updates by the developer did not solve these. Even though these issues should be fixed today, the Finalmouse's quality level took a huge hit.
But: there's a new sheriff in town that filled this gap! Instead of the Finalmouse, gaming mouse enthusiasts now recommend the Nixeus Revel across all message boards. It comes with a lot of similar features, but without the bugs. But: what's behind the hype, and is it justified at all? We got one of the new Revels right after release and took a closer look at it in our Nixeus Revel review!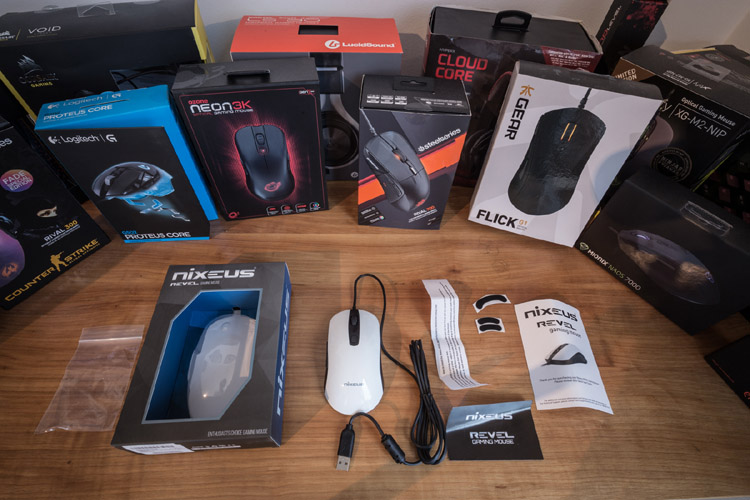 Nixeus Revel Review: Features
Well – in gaming mouse message boards you'll have a seasonal favorite every year that is being praised as a dark horse sleeper pick. First it was Zowie and its boutique models (until they were bought by BenQ), then Finalmouse (until the bugs happened) and now the Nixeus Revel. That's why (just like with every hype) it's important to look at the core features first:
| Feature | Evaluation |
| --- | --- |
| PixArt PMW3360 Sensor: | The best sensor on the market, hands down. The PMW3360 offers flawless tracking, even when the mouse is used at high speeds. It's a little bit more expensive than other sensors, but the best choice on the current market. This sensor is also used in a lot of benchmark mice, e.g. the SteelSeries Rival 700 or the Logitech G502 (labeled as 'PMW3366'). |
| Omron Switches: | Same here: Omron switches are known to be the best on the market as well. They are designed for more than 20 million clicks, and have a nice feel of feedback and tactility. |
| 6 Mouse Buttons: | The Nixeus Revel has the typical 6 button configuration with 2 mouse buttons, 2 side buttons, a DPI switch and of course the mouse wheel. |
| Symmetric Shape: | The Nixeus Revel features the same famous shape of the SteelSeries Sensei, that can also be seen on e.g. the Kana v2, Xtrfy XG-M2 or Zowie FK1. It's a symmetric shape that is relatively small with a low overall height. |
| 8 DPI Settings: | Nixeus does not offer a software for the Revel; you can only adjust the DPI in 8 different settings by pressing the button behind the mouse wheel (400 / 800 / 1200 / 1600 / 2000 / 3200 / 5000 / 12000). |
| 3 OZ / 85g Weight: | With a weight of just 3 oz (or 85 gram) the Nixeus Revel is one of the most lightweight gaming mice out there. Nearly all competitors' weight are way higher than that, which can be a major drawback during quick lift-offs in games. |
Nixeus Revel: First Impression
When opening the box you'll realize that its content is quite simplistic: the manual is just a small piece of paper, and the description for the additional mouse feet seems to be cut out from a piece of white paper. Seems strange, but considering they've been added to the box after the community asked for them it's actually a good thing. 'Simplistic' very often is good though: no random crap or advertisement in the box with strange marketing bingo – instead you get a serious product aimed at enthusiasts who already know what they want and don't need to be convinced.
This pragmatic approach also continues when looking at the mouse. If you're looking for futuristic shapes or weird mouse buttons all over the place you should definitely buy something else. It's just your famous SteelSeries Sensei shape, with the standard button layout and (at least design-wise) 'no frills'. The mouse has a nice glossy white surface with some slight texturing. If you're into a more matte finish, you should get the black version of the Nixeus Revel. I personally prefer the latter, as my hand doesn't sweat that much on matt/rubber surfaces. Every gamer is different though, so it's nice to have these two options.
The sides of both versions are made out of black matt plastic as well, so you shouldn't expect any rubber to improve your grip. It wouldn't be needed anyway, as the Revel's shape gives you more than enough grip during each lift-off. Talking about the shape: switching to the Nixeus Revel in our Review was super easy, as we were used to that shape from the Zowie FK1. This applies especially to finger grip or claw grip users, only for palm grip the Revel might be too small.
The best thing (besides the sensor) is the super low weight of the mouse in our Nixeus Revel Review: with just 3oz, it's among the most light-weight gaming mice on the market right now – especially when comparing it to heavyweights like the SteelSeries Rival 700.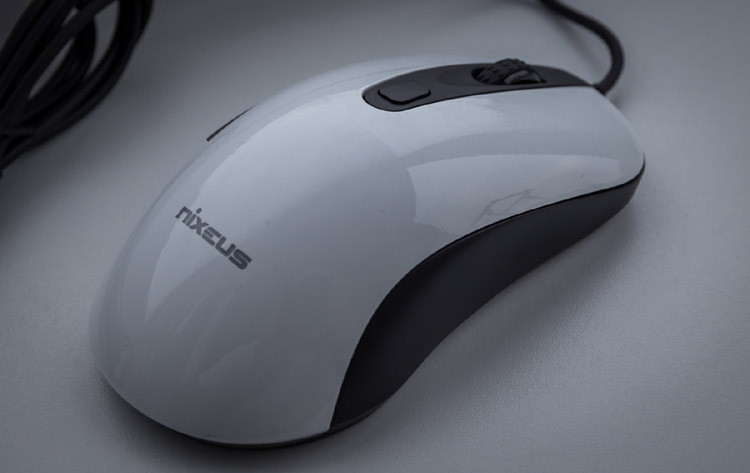 Nixeus Revel Review: in-game Performance
Alright, let's jump into the fun part of the Nixeus Revel review. Installing the mouse is super simple, as you just have to plug it in via USB. There is no software available, just plug'n'play. After some seconds the Revel's LED will pulsate through the logo (on the back of the mouse) and the light strip on the lower back. You won't be able to configure the color though, as it's tied to the DPI setting you choose. Although all colors look pretty good in combination with the white surface, you'll have to live with the color of your setting (which could e.g. be purple).
In-game the Nixeus Revel really shines though: the PMW-3360 works flawlessy without any tracking errors, mouse correction or jittering. This also applies to all mouse test softwares we tried, where the signal always worked perfectly. To sum it up: there's no better sensor on the current market, period.
The mouse switches are on a similar level: Omrons are super durable and offer a nice tactile feedback. They are a little bit harder to press down than your average mouse switch, but I prefer it this way (you should know if you like this as well though, before you buy). To sum it up again: there are no better mouse switches on the market right now, period (again).
This tactile feedback is great for regular mouse buttons, we don't really like it for the mouse wheel though: pressing it down takes more force than with other mice, which can result in you actually slipping and turning the wheel instead of pressing it down. Even though the mouse wheel feels good, it lacks a bit of precision due to its stiffness.
All in all the mouse's performance in our Nixeus Revel review is very good though, especially in CS:GO the light weight in combination with the low lift-off distance allows super quick lift-offs and precise one-taps. The included glide pads are nice to further optimize the mouse speed. By the way: these have been included due to community feedback (which is a nice gesture to be honest). Nixeus seems to be very close to the community anyway, as you'll see plenty of community managers in bigger message boards or reddit quite often. They will also keep you updated on firmware updates, which e.g. allows you to select the polling rate or other additional features in the future. GGWP Nixeus!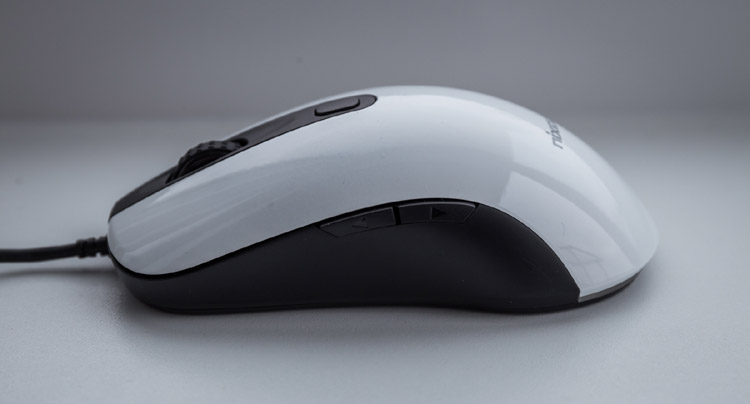 Nixeus Revel Review: Conclusion
Is there a new boss in town after all the hassle with the Finalmouse? Yes, there is! The Nixeus Revel offers top-notch components in the legendary shape of the Sensei – and all that for a super competitive price of under 40 USD. Especially the low price was a positive surprise for us, as these components are normally only found in high-end mice like the Logitech G502 or SteelSeries Rival 300. One of the big reasons might be that Nixeus doesn't have huge marketing budgets like its competitors, and doesn't sponsor esports teams or big events. But as long as this results in a high-end boutique mouse for a low price, I'm happy to take it.