Mouse Correction has to be one of the most annoying things a gamer can experience with his gaming mouse: most of today's mice on the market have a built-in mouse correction (also known as angle snapping or mouse prediction) that artificially smoothens out your mouse signal. This means that your mouse sensor automatically detects when you want to draw a straight line – and then tries to artificially keep your cursor on that horizontal line. Depending on how strong this mouse correction is, your sensor will tamper with your actual mouse movement big time.
While this might make sense for office use (maybe drawing straight lines in Powerpoint? I don't know…) it is horrible for gamers! Imagine you are zooming in with a sniper rifle in game to get that last frag – and then your mouse sensor f****s you over by tampering with your aiming. This is just the most horrible feature you can imagine – but still the majority of today's mice do that!
Does my Mouse have Mouse Correction?
To find out if your current setup has mouse correction activated, try this:
Open up MS Paint (or the Apple alternative)
Choose the normal pencil tool
Try to draw straight horizonal lines with that pencil
If the lines you've drawn have longer parts that are completely flat, then there is a certain amount of mouse correction – just like in my example below: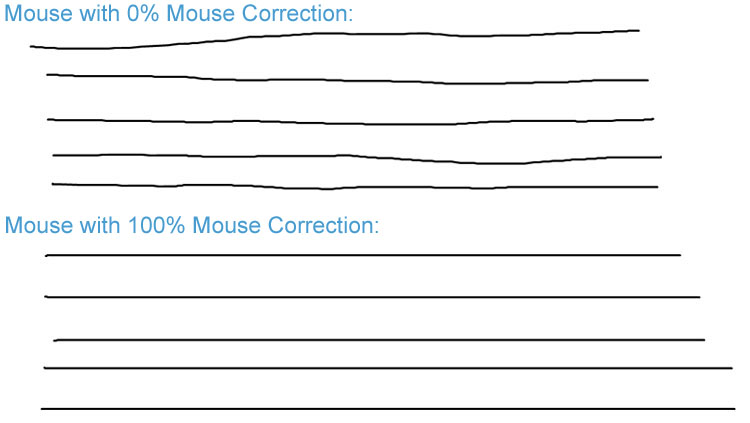 Which Mice have Mouse Correction?
The good news is: there are some good gaming mice out there without any mouse correction. That's why you should always look for a gaming mouse with a so called "flawless sensor". My personal favorites here are (depending on your mouse grip type): Zowie FK1 (symmetric) or Zowie EC2 (asymmetric, better for palm grip). If you prefer a more common mouse, take the SteelSeries Rival (popular as a CS:GO mouse) or the Razer Deathadder. If budget's tight, you can still go for the SteelSeries Kana v2 – great flawless bang for the buck!