As you (hopefully!) read in my guide to mouse grip types there are different ways to actually hold a computer mouse. Every gamer is different, and so is his grip style. Therefore there are three standard grip types that the mouse industry uses: Finger Grip, Palm Grip and Claw Grip. If you belong to the last group of these and "claw grip" your mouse, I have some special gaming mice for you that I highly recommend looking at!
What's the Claw Grip again?
The Claw Grip is a more uncommon grip type that looks rather extreme. Your hand holds the mouse like a claw (hence the name, lol) so that your finger tips rest nearly vertically on the mouse buttons. As your hand will form quite a high arch above the mouse, your palm will automatically touch the back of the mouse.
The Best Claw Grip Mouse: Top 3
The following claw grip mice are the ones I highly recommend. They all have a perfect sensor and an overall great attention to quality. Of course, this is just my personal selection from years of experience, and not a comprehensive list of all claw grip mice that are good.
My current weapon of choice! The Zowie FK1 has a shape that is very similar to the "classic" SteelSeries Sensei. The biggest problem with the Sensei though was its sensor: as with every laser mouse the sensor was not flawless (flawless means: no artificial acceleration, correction or annoying jittering). While the Zowie FK1 looks very simplistic, it's the hardware that counts. The sensor is perfect on these, just like the high-quality switches that Zowie uses. It has 7 buttons overall (2 mouse buttons, 1 wheel, 2 additional buttons each side) and the awesome Avago ADNS-3310 sensor.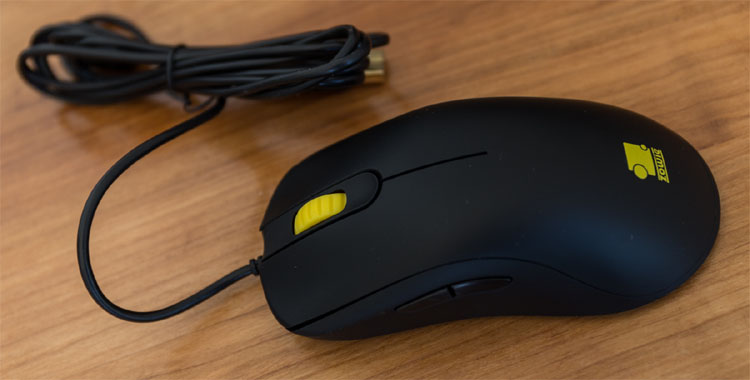 Mionix might not be the most well-known brand in the US, but the Swedish gear company has some awesome mice on the current market. The build quality on all the mice I had in my hands (four different models in total) was exceptional, as well as the materials used (the soft surface feels super good). The Avior 7000 also uses Avago's ADNS-3310 sensor. Be careful though that there's another Avior model ("Avior 8200") with a laser sensor. As optical sensors are better, always go with the Avior 7000.

If your budget is a bit tighter, it's still no reason to not buy a proper high-quality claw grip mouse. SteelSeries' Kana v2 has Avago's ADNS-3090 sensor, which is a tad cheaper than the ADNS-3310, but still flawless. It is very light-weight and offers the typical Sensei shape, while still not costing an arm and a leg: SteelSeries has this mouse type on sale quite often, you can get a pretty good deal on these. Just make sure to get the v2 though, as the predecessor does not have the same sensor.