It's nothing new to see faces of professional gamers on the boxes of gaming mice. Doublelift's face for example has been printed on Razer gear for ages. Pro teams having their own brand of gaming gear is something new though: Fnatic just released "Fnatic Gear" via crowdfunding, and the Ninjas in Pyjamas started their own brand "Xtrfy". As I've been following NiP in CS:GO quite heavily, I obviously had to get my hands on the very first mouse they released: the Xtrfy XG-M2 NiP Special Edition!
NiP, Xtrfy – who's that?
If you're not following competitive CS:GO (you should, it's fun): Ninjas in Pyjamas is one of the most legendary teams in that game, having a 87:0 win record once. Xtrfy is their spin-off company (also based in Sweden) to develop gaming gear that is aimed at "serious" gamers. The product lineup is limited right now (not surprising, given the fact that it's a new company): one mouse (the XG-M2 we're reviewing here), two keyboards and some mouse pads. Less is more in this case as all of the products seem to have high quality standards – e.g. all keyboards include mechanical switches.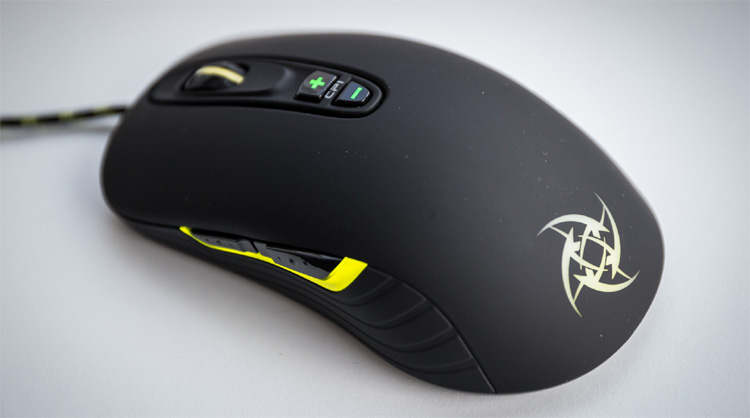 Features of the Xtrfy XG-M2:
Talking about high-quality – all the core features of the Xtrfy XG-M2 look really good:

| Feature | My Opinion |
| --- | --- |
| Pixart PMW-3310 Sensor: | Pixart's PMW-3310 is known to be the best sensor on the current market, offering completely flawless tracking without any mouse correction. |
| Omron Switches: | Also the switches used are the best ones on the market, hailing from the Japanese manufacturer Omron. |
| 400 – 4.000 DPI: | Having the best mouse sensor means also having enough DPI for every purpose. DPI can be switched with two buttons behind the scroll wheel. |
| 125-1.000 Hz Polling Rate: | The polling rate can be switched via a little lever on the bottom of the XG-M2 – you should always use 1.000Hz though to reduce the amount of input lag to a minimum. |
Looking at the raw data looks very promising already – it would obviously suck if a pro gaming team's mouse had sub-par components.
Xtrfy XG-M2 Review: First Impression
The first thing that catches your eye (at least when you're an esports fan) is the NiP logo on the back with its yellow LED lighting – just like the mouse wheel and the lighting around the side buttons. The dpi switches on top of the mouse have green LEDs. The colors of the lighting cannot be changed – and you don't want to have a pink NiP logo, trust me. Although the overall mouse shape is very close to Zowie's FK1, the material feels quite different: while the Zowie has a pretty hard surface, the XtrfyXG-M2 feels a lot softer.
Talking about surfaces: a neat little addition can be found on the two side buttons. Xtrfy put three little knobs on each of these to provide a better grip for your thumb. A very small detail, but a pretty smart idea.
My first impression of the XtrfyXG-M2: lots of interesting little details, high-quality materials and excellent craftmanship.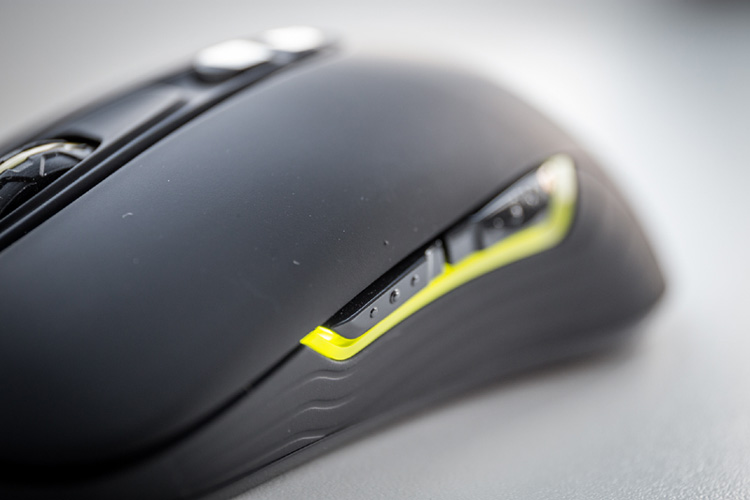 The Xtrfy XG-M2 In-Game
Xtrfy's XG-M2 is pure plug-n-play, meaning that it will work without any software. If you still want to install any software I got some bad news: there is none. Yep, everything that can be adjusted will be adjusted by buttons on the actual mouse. There is one lever on the bottom to adjust the polling rate (you should keep that one on 1.000Hz though) and two switches at the top to select the DPI. Useless things like mouse correction or mouse acceleration are disabled anyway (and there's zero reason to actually switch something like that on again).
In-Game it's pretty easy to get accustomed to the XG-M2, especially if you've used mice like the SteelSeries Kana, Zowie FK1 oder SteelSeries Sensei before. The biggest difference is the bigger weight of the Xtrfy that you might feel when lifting off the mouse. Don't get this wrong though, the Xtry is not "too heavy" at all – in my humble opinion they should rather add some weight to the Zowie FK1 to find the perfect middle ground. Every movement in-game feels super precise and fast.
The feel of the mouse also fits to that high-quality impression. The tactile feedback of the buttons is nice, nothing feels wobbly or poorly made. Only the mouse wheel could've been a bit stiffer to make it more precise – here I actually prefer the one of my Zowie FK1, although scrolling goes faster with the Xtrfy. The very light-weight and braided cable is another nice little addition that allows you to move the mouse around the mouse pad without any interference.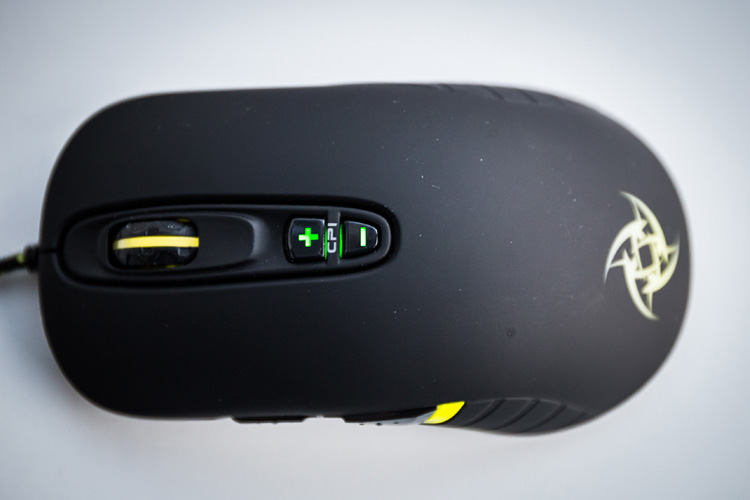 Xtrfy XG-M2 Review: Conclusion
Even if you're a new company, you can't revolutionize the gaming mouse market: there are already a few excellent models out there that are hard to beat. What you can do though is develop an extremely well-made gaming mouse, that offers superb hardware and great materials to join that top group of gaming mice. That's what Xtrfy did: The XG-M2 offers everything a gaming mouse enthusiast can ask for, which is why I can recommend it to you – even if you're not a NiP fan.